Archives by date
You are browsing the site archives by date.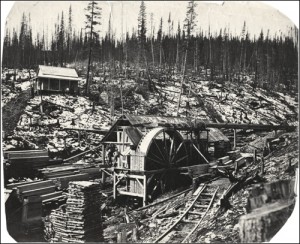 By Jessica Woolman on February 26, 2014
Title: [View of a sawmill] Photographer: Charles Gentile Date: 1865 This albumen print shows an early B.C. sawmill and a dwelling, likely in the interior of B.C. Courtesy of Rare Books and Special Collections (UL 1019 9).
By Jessica Woolman on February 26, 2014
Title: [Stereograph view of women on a bridge] Photographer: Richard Maynard Date: 1890 A stereograph (two identical images intended to be seen through a viewer creating a three dimensional image) of two women standing on a bridge on a forested road. Very likely taken on Vancouver Island. Courtesy of Rare Books and Special Collections (UL 1084 […]
By Jessica Woolman on February 26, 2014
Title: Wait for me Daddy Photographer: C.P. Deitloff Date: 1940 This photograph was taken by a Vancouver Daily Province staff photographer on Oct. 1, 1940 as the British Columbia Regiment marched down Eighth Street in New Westminster, before embarking overseas to join the war effort. The photograph subsequently became famous the world over, as it became […]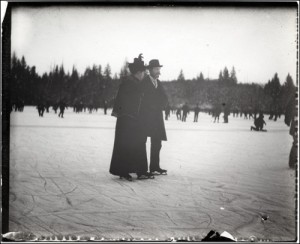 By Jessica Woolman on February 26, 2014
Title: Trout Lake Photographer: William Bauer Date: 1900 Silver gelatin print of a couple skating on Trout Lake in Vancouver. The man in the photo is identified as His Royal Highness Prince Arthur (1850-1942), the Duke of Connaught and third son of Queen Victoria. Arthur served as the Governor General of Canada from 1911 to […]